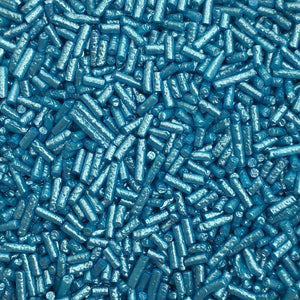 SHINY strands are our premium line of confetti cookie sprinkles! A unique pearl pigment gives them their high luster shine.
Blue shiny strands: Use these in your next Frozen cake for an added shine, like real snow and ice. They're also stunning for gender reveal and baby shower cakes! "Oh, see how they shine!"
Bake Stable Sprinkles: Mix these sprinkles into your cookie dough before baking for bright pops of color! These also work surprisingly well when mixed into meringue buttercream!*
*Te gebruiken voor koekjes zowel voor als na het bakken.
Minder geschikt voor vloeibaar beslag zoals cake

, net zoals botercrème en slagroom. (Best used in cookie dough before baking. These are less suited for more liquid batter such as cake batter, American buttercream and whipped cream.)
Ingredients: Sugar, Vegetable Oil (coconut), Glucose Syrup, Colors (E133, E171), Glazing Agent (E901 with coconut oil, shellac).