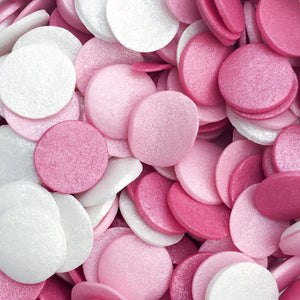 Colorful circle quins with a beautiful finish that is SHINY due to the unique pearl pigment!

We call these colossal because these confetti shapes are LARGE! Each circle has a diameter of 10mm! "How big? Soooo big!"
This is a mix of dark pink, light pink and mother-of-pearl. Sister to Happy Hearts and Happy Pinks!
Ingredients: Sugar, Potato Starch, Sunflower Oil, Rice Flour, Colors (E120, E132, E133, E141, E171), Glazing Agent (shellac).