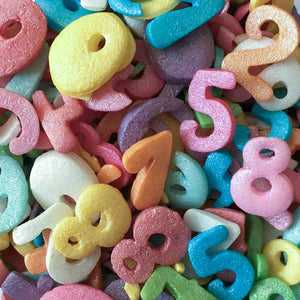 These adorable numbers make counting so much fun! They have a beautiful  SHINY coating due to the unique pearl pigment.

 This is a mix of pink, purple, aqua, violet, green, yellow, pearl, blue, orange, and red.

Ingredients: Sugar, potato starch, sunflower oil, rice flour, colors (E101, E120, E132, E133, E141, E171), shellac.