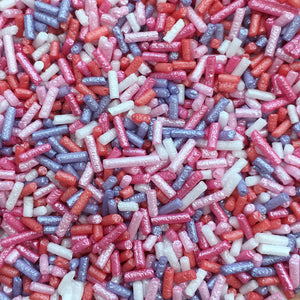 SHINY strands are our premium line of confetti cookie sprinkles! A unique pearl pigment gives them their high luster shine.
A mix of red, pink, dark pink, violet, and white strands that shine!
Did you know? The Rubellite is a rare gemstone that is multi-faceted and varies in color from pink to crimson red with splashes of purple.
Bake Stable Sprinkles: Mix these sprinkles into your cookie dough before baking for bright pops of color! These also work surprisingly well when mixed into meringue buttercream!*
*Te gebruiken voor koekjes zowel voor als na het bakken.
Minder geschikt voor vloeibaar beslag zoals cake

, net zoals botercrème en slagroom. (Best used in cookie dough before baking. These are less suited for more liquid batter such as cake batter, American buttercream and whipped cream.)
Ingredients: Sugar, Vegetable Oil (coconut), Glucose Syrup, Colors (E101, 
E120, E132, E171)

, Glazing Agent (E901 with coconut oil, shellac).