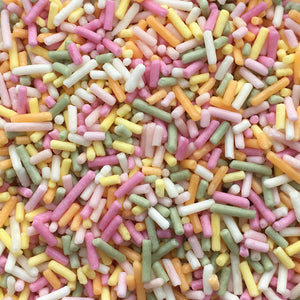 This mix is made with only naturally colored sprinkles!
Bake Stable Sprinkles: Mix these sprinkles into your batter or dough before baking! Also beautiful as an all-natural decoration.
These sprinkles will not bleed their color into your batter. These melt fully in the oven leaving only spots of color behind. *The natural colorings used in these sprinkles make them not as dominant when baked.
Ingredients: 

Icing Sugar (sugar, potato starch), Maize Starch, Un hydrogenated Vegetable Fat, Water, Emulsifier (Rapeseed Lecithin), Glazing Agents (Shellac, Acacia Gum, Sugar), Colours (beetroot, chlorophyll, paprika, lutein).