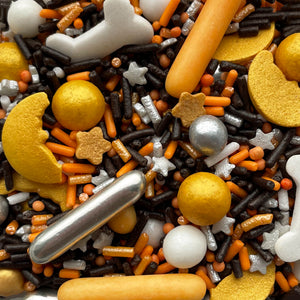 Available for a limited time only...this mix is chock full of halloween fun! Trick or Treat!
Decofetti: A BAKD confetti blend of diverse sprinkles (strands, pearls, quins) for decorating cakes and cupcakes, cookies and more.
A mix of (shiny)orange, dark, white, silver, and brown strands scattered with bones, moons, orange and silver rods, silver and gold stars and pearls, and nonpareils! 
*Remove rods before eating. Not recommended for consumption (read: do not eat). Though these are edible, they are very hard and have the consistency of raw pasta noodles, as their centers are made from wheat semolina. But boy are they beautiful!
*Consumptie afgeraden. Deze sprinkles zijn erg hard (zoals ongekookte pasta) en daarom wordt consumtie afgedraden ondanks dat deze sprinkes eetbaar zijn. Maar WAUW wat zijn ze mooi! Dus alleen voor decoratie gebruiken.
Ingredients:

Icing Sugar [sugar, starch], dextrose, maize/wheat starch, sunflower oil, rice flour, wheat semolina, glucose syrup, un-hydrogenated vegetable fat [palm, coconut], partially hydrogenated vegetable oil (PEANUT), water, fat reduced cocoa powder. Emulsifier; rapeseed lecithin. Colour; E100, E101, E110, E120, E132, E153, E171, E172, E174, concentrate of radish, sweet potato. Glaze [glazing agents; (shellac, acacia gum, beeswax, carnauba wax), sugar], stabilizer (arabic gum), gelatin (fish), citric acid (E330), potato starch, aroma.