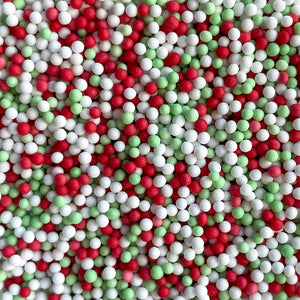 A Christmas mix of naturally colored spikkels! 

Nonpareils or Musketzaad, also known as Hundreds & Thousands (100s & 1000s) and Sprinkle Chips, add beautiful decoration, color and crunch to the outside of your cakes and cookies. 
Ingredients:

Sugar, WHEAT starch, Glucose Syrup, Colouring food: concentrate of radish, lemon, black currant , algae, safflower, vegetable oil: coconut; Glazing agent (beeswax).