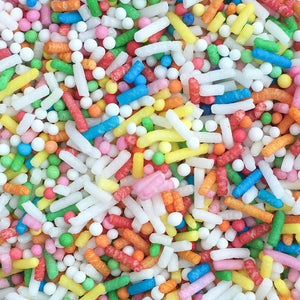 Decofetti: A BAKD confetti blend for decorating cakes and cupcakes, cookies and more.
Mix of red, orange, yellow, green, blue, pink and white strands and nonpariels/discodip. All non-AZO colors!
Hiep hiep hoera!
*Te gebruiken voor koekjes zowel voor als na het bakken. Minder geschikt voor vloeibaar beslag zoals cake, net zoals botercrème en slagroom. (Best used in cookie dough before baking. These are less suited for more liquid batter such as cake batter, American buttercream and whipped cream. Test first for best results!)
Ingredients: Sugar, vegetable fat (palm), glucose syrup, glazing agent: shellac, emulsifier: E453, food coloring: curcumin, carmine, E131. NL: suiker, plantaardig vet (palm), WHEAT starch, glucosestroop, glansmiddel: shellak/beeswax, emulgator: E435, kleurstoffen: curcumine, karmijn, E131.