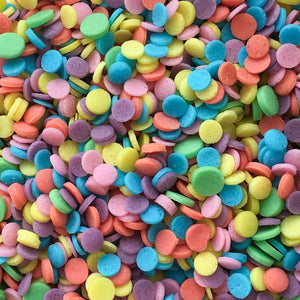 Colorful rainbow funfetti circle quins! Beautiful for decorating the outside, and the INSIDE of cakes! Yes, these work really well in confetti funfetti cakes! Different colors, different sprinkles, different options...don't you just love variety?!*

 This is a mix of red, yellow, green, aqua, violet, and pink! They measure about 3mm.

*Quins do not melt fully in the oven, so they add a nice crunch when baked into cookies and cakes.
Ingredients: Sugar, Potato Starch, Sunflower Oil, Rice Flour, Colours (E100, E120, E131, E163)