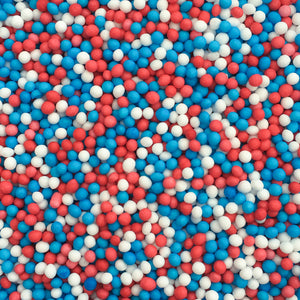 Red, white and blue patriotic spikkels! For Nederland or for the 4th of July.
Nonpareils or Musketzaad, also known as Hundreds & Thousands (100s & 1000s) and Sprinkle Chips, add beautiful decoration, color and crunch to the outside of your cakes and cookies. 

Ingredients: 

Sugar, WHEAT Starch, Glucose Syrup, Vegetable Oil (coconut), Glazing Agent (beeswax), Colouring Food (concentrate of radish, lemon, blackcurrant), Colors (E131).