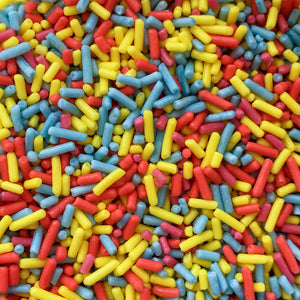 Bake Stable Sprinkles: Mix these sprinkles into your batter or dough before baking for bright pops of color!
Super Cake Strands are jimmies for your little super hero! This bright and bold mix includes yellow, red and blue sprinkle strands to add fun pops of color to your cakes on the inside and the outside. It's the perfect super hero birthday cake!
These sprinkles will not bleed their color into your batter.  And, unlike confetti sprinkles, these melt fully in the oven leaving only spots of color behind.
Add these sprinkles to your cake batter before baking to make the popular American funfetti or confetti birthday cake or cupcakes. These are also great for making confetti cookies or confetti cookie cakes!
How much do I need? 

For one confetti cake, cake only: 70g

For one confetti cake, cake and decorating: 130 g
400 g is enough to bake and decorate a few confetti cakes and make yourself a few ice cream sundaes. Then there is also confetti cheese cake, confetti cookies, confetti blondies, etc. :)
*Ingredients: Icing Sugar (sugar, potato starch), Un hydrogenated Vegetable Fat (palm), Maize Starch, Water, Emulsifier (rapeseed lecithin), Glazing Agents (shellac, acacia gum), Colors (E102, E120, E129, E132).