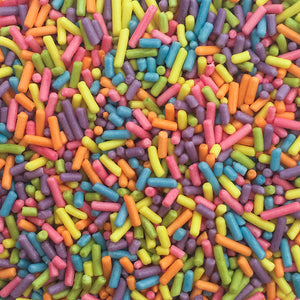 A mix of orange, green, blue, yellow, purple and pink. Perfect for spring!
These sprinkles will not bleed their color into your batter and these melt fully in the oven leaving only spots of color behind.  
Ingredients: Icing Sugar (sugar, potato starch), Un hydrogenated Vegetable Fat (palm), Maize Starch, Water, Emulsifier (rapeseed lecithin), Glazing Agents (shellac, acacia gum), Colors (E102, E104, E110, E122, E124, E132, E151).